Aldar sustains growth momentum with 15% rise in gross profit, as development sales surge to a record AED 2.35 bn
Group Financial Highlights
Sustained growth momentum across Aldar's diversified businesses, driven by another quarter of record development sales, increased fee income from management of third-party projects and stable recurring income generated by Aldar Investment

Aldar leveraged its strong brand equity and capabilities in capturing market demand, recording highest ever quarterly development sales of AED 2.35 billion in Q2, bringing total sales in H1 to AED 3.4 billion and revenue backlog to AED 4.25 billion.

All new project launches this year have sold out, providing clear visibility on future revenue as developments progress

Aldar Development recorded 10% YoY increase in gross profit to AED 444 million on solid development revenues and higher management fee income, as government projects ramped up

Aldar Investment reported 23% YoY increase in recurring net operating income to AED 375 million driven by new leases and higher contributions from the property management and education businesses

Strong liquidity position with AED 4.45 billion of unrestricted cash and AED 4.5 billion of undrawn committed facilities will fuel sustainable and long-term growth opportunities

Operating environment continues to improve, supported by UAE's world-leading vaccination rate as well as real estate, residency, investment reforms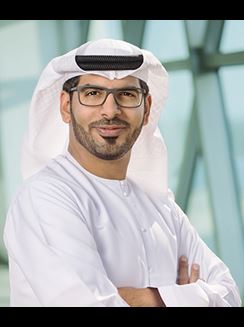 Talal Al Dhiyebi
Group Chief Executive Officer of Aldar Properties
"Aldar's diversified businesses have achieved significant uplift in activity over the last 12 months. Development launches have ramped up, third-party management fees have climbed as projects gathered pace, and our education and property management businesses have built considerable scale. This growth has been underpinned by strong appetite for prime Abu Dhabi properties among diverse end-users and investors, as well as further strengthening of investment-friendly policies. Aldar's ability to bring the appropriate product to market at the right time has resulted in a sustained increase in development sales over the last year, to reach a record AED 2.35 billion in the second quarter. Our new launches have sold out and we have seen solid demand for completed projects. Occupancy across our diversified portfolio of income-generating properties has remained rock solid and recovering footfall and sales at our retail properties provide further encouragement that the macro-economic picture continues to improve. Benefiting from a cash position of over AED 4 billion and AED 4.5 billion of undrawn credit facilities, Aldar expects to sustain the accelerated pace of activity and take advantage of attractive investment opportunities presented by this market cycle. We will continue to launch new developments in premier locations and pursue further asset growth and diversification of our investment property portfolio."
Group Financial Highlights
Aldar Group (AED)
Q2 2021

% Change

H1 2021
% Change
Revenue
2.19 bn
+ 9% YoY
4.23 bn
+12%

YoY

Gross profit
824 mn
+15%

YoY

1.60 bn
+13%

YoY

Net profit
521 mn
+8%

YoY

1.06 bn
+35%

YoY
Business Unit Highlights
Aldar Development
| Aldar Development (AED million) | Q2 2021 | Q2 2020 | % Change | H1 2021 | H1 2020 | % Change |
| --- | --- | --- | --- | --- | --- | --- |
| Revenue | 1,348 | 1,265 | 7% | 2,534 | 2,073 | 22% |
| Gross profit | 444.4 | 402.7 | 10% | 814.6 | 692.3 | 18% |
| Sales | 2,353 | 505 | 366% | 3,443 | 837.7 | 311% |
This core business unit comprises two main segments: Property Development & Sales, which is responsible for developing, marketing, and selling Aldar's diverse and strategic land bank located in key investment zones including Saadiyat and Yas Islands; and Project Management Services, which manages Aldar's fee-based development management business including AED 45 billion of government housing and infrastructure projects.
Aldar Development revenue in Q2 increased 7% to AED 1.35 billion and gross profit jumped 10% to AED 444 million, predominantly driven by solid development revenue and higher contributions from the fee-based project management business.

The Property Development & Sales business held firm, supported by a good pace of construction at developments, robust inventory sales and successful new project launches.

Aldar recorded its highest ever quarterly sales at AED 2.35 billion in Q2, bringing the total to AED 3.4 billion for H1. New development launches, which will deliver income to Aldar across the project lifespan, were rapidly sold out: 669 villas across Noya Luma and Noya Viva. The business also reported a steady pace in sales of existing inventory at mid-to-high-end destinations, including Water's Edge, Mamsha, Nareel, Yas Acres, Lea and Reeman 2. This strong momentum is expected to continue into Q3 driven by the successful sell-out of waterfront land plots at Al Gurm, and villas at Saadiyat Reserve The Dunes.
The significant development sales in the period resulted in a 28% quarter-on-quarter increase in revenue backlog to AED 4.25 billion.

Expatriate homeowners and foreign investors represent 42% of total buyers as they continue to realise the benefits of Abu Dhabi's recently implemented real estate, residency, and investment reforms. In addition, Aldar witnessed strong demand from both first-time homeowners and return buyers who appreciate the quality of its properties within well-designed communities.

Cash collections were up 36% YoY to AED 1.06 billion primarily driven by handover collections across Mamsha, Yas Acres, West Yas, Water's Edge and Nareel.

Revenue for the Project Management Services business increased 58% YoY to AED 366.7 million in Q2, and gross profit jumped 192% to AED 107.9 million. This growth was driven by strong progress made on a range of project management, fixed contracts, and third-party projects under Aldar's management, including the projects awarded by the Abu Dhabi Government last year.

Aldar is leading a consortium of investors that submitted a non-binding offer to acquire a majority stake in one of Egypt's listed leading real estate development companies, Sixth of October Development and Investment Company. During Q2, the Company received an approval from the Egyptian Financial Regulatory Authority (FRA) for a 30-day deadline extension to finalise the due diligence process and relevant procedures.



Business Unit Highlights
Aldar Investment
Aldar Investment (AED MN)
Q2 2021
Q2 2020

% Change

H1 2021

H1

2020

% Change

Revenue
874.5
760.2
15%
1,759
1,724
2%
Total Net Operating Income (NOI)
375.1
304.2
23%
777.5
714.6
9%
Occupancy (retail, office & commercial)
87.7%
88.3%
Aldar Investment is comprised of four main segments representing over AED 20 billion of assets under management. Investment Properties, which houses Aldar's core asset management business comprising AED 16.5 billion portfolio of prime real estate assets across retail, residential and commercial segments. Education, a leading education group in Abu Dhabi. Hospitality and Leisure, a portfolio of AED 2.1 billion of hotel and leisure assets anchored around Yas Island and Saadiyat Island. Principal Investments, which includes Provis, property management business, Khidmah, facilities management business and Pivot, construction services business.
Aldar Investment revenue grew 15% to AED 874.5 million in Q2 and net operating income (NOI) increased 23% to AED 375.1 million. This was supported by steady occupancy across Aldar's diversified portfolio of investment properties and higher contributions from Provis and Aldar Education.
The Investment Properties portfolio produced a 5% YoY increase in NOI to AED 308.6 million. Occupancy across the diversified properties was stable at 88%, supported by Aldar's commitment to tenants and wider stakeholder engagement through premium offerings and service, and high-quality facilities maintenance.

o The Residential portfolio reported 0.4% YoY growth in NOI driven by income from new leases. Occupancy increased to 89% at the end of Q2, from 88% a year earlier.
o The Retail segment NOI increased 17.7% YoY mainly due to higher footfall and sales, reflecting improving consumer sentiment and purchasing power. Occupancy held firm at 86% and is expected to be supported by progression of handovers related to the Yas Mall redevelopment plan.
o The Commercial portfolio NOI declined 0.5% YoY, mainly due to lease maturities in the Operating Village segment. However, underlying office occupancy held firm at 90% supported by long-term, committed lease contracts from government related entities and corporate clients.
The Hospitality and Leisure business is recovering with 79% growth in NOI driven by an increase in third-party asset management fees and prudent cost control measures across all hotels. The business is expected to experience a gradual improvement as global travel restrictions are eased and as the Meetings, Incentives, Conventions and Exhibitions (MICE) industry recovers.
In Q2, Aldar Education reported a 208% YoY increase in NOI to AED 49.4 million, driven by a 16% increase in student numbers to 21,983. This was supported by significant cost savings from enhanced operational efficiencies.
Within the Principal Investments business, Aldar's property management company Provis has increased scale significantly through the acquisition of Asteco Property Management. Currently, Provis includes a portfolio of 50,000 residential units, 600,000 Gross Leasable Area (GLA) of retail assets, and 317,000 sqm of commercial assets under management. The company produced a significant growth in NOI to AED 16.9 million in Q2 driven by Asteco contribution, growth across several service lines and upturn in the market.
Q2 Corporate Highlights
ESG: Further Embedding of Sustainability Across the Group
Aldar signed a AED 300 million facility with HSBC that links the interest margin payable under the facility to achievement of sustainability targets. The facility, which is aligned with the Sustainability-Linked Loan Principles (SLLP), includes a mechanism to adjust Aldar's interest margin annually in line with achievement of targets on energy and water intensity, waste recycling and worker welfare. This reinforces Aldar's position as the highest ESG ranking listed real estate company in the UAE.

During the second quarter, Aldar adopted the Task Force on Climate Related Financial Disclosures (TCFD) framework as part of its sustainability reporting and completed a business level climate risk assessment following the TCFD guidelines

Aldar joined the United Nations Global Compact, the world's largest corporate sustainability initiative.

Sustainability became a core competency for Aldar's employees during Q2, integrating into the company's competency and performance management frameworks.

Innovation: Supporting, Nurturing and Investing in New Ideas and Tech
Aldar selected twelve finalists for the second edition of its Manassah entrepreneurship programme – a six-month incubator aimed at nurturing talent and advancing retail concepts in the GCC. Six tech start-ups and six traditional retail concepts are working with Aldar to develop their concepts and build up the skills needed to successfully operate and scale their start-ups.

Customer: Evolving and Enhancing Experience
During Q2, Aldar started the process of centralizing its call centres to create a consistent customer experience across all of its assets. This includes all channels of customer communication including inbound, outbound, SMS, WhatsApp and email.

Enhanced the customer sales journey by rolling out 3D interactive masterplans for key sales launches with high end visualizations to allow customers to select their preferred units.

People: Providing Meaningful Careers
In line with Aldar's Diversity and Inclusion strategy, the company continues to diversify its employee mix and culture. During Q2, Aldar welcomed 14 People of Determination to its internship programmes across the Group. The company also increased its overall female headcount to 36%.

During the first half of 2021, Aldar continued to strengthen its Emiratisation programme with the addition of qualified UAE nationals to a variety of roles. The total number of UAE nationals employed across the Group increased by 4% to 33.5%.