#Aldar General News
April 20, 2020
Aldar partners with ADCB, ABID and FAB to offer an exceptional home offer for Aldar customers with 3 and 5 years fixed rates at 1.99%
• Limited time offer available for 30 days
• 1.99% fixed rate offer available for three or five years with no application or valuation fees*
• Offer applies to customers at Yas Acres, The Bridges, Mamsha and Jawaher
• Virtual home tours and handovers available to customers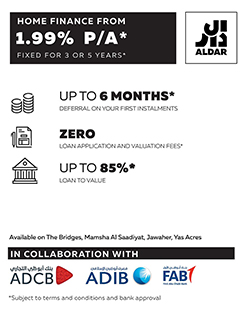 Abu Dhabi - UAE, 20 April 2020: Aldar Properties ("Aldar") has partnered with leading home finance providers, ADCB, ADIB and FAB, to bring its customers an exclusive, 30 day limited time offer for homes in some of the most sought-after destinations in Abu Dhabi. The offer enables buyers to benefit from a fixed rate of 1.99%* for three or five years with no application or valuation fees*.
The offer applies to customers who have already purchased or are looking to purchase homes in Yas Acres, The Bridges, Mamsha, and Jawaher. Available for both conventional and Islamic home finance, the offer also includes three to six months payment deferrals to help customers manage their finances.

In line with its commitment to digital transformation, Aldar has made virtual home tours available for its customers. With numerous homes being handed over, specialised disinfection services are also taking place in line with Aldar's efforts to ensure a safe and seamless handover process. New customers, or those who plan to register their titles during 2020 can avail themselves of Abu Dhabi Municipality's recent waiver of the 2% registration fees, in addition they can benefit from Aldar service charge waivers for the first year.

Commenting on the offer, Rashed Al Omaira, Executive Director – Commercial at Aldar Properties, said: "Each and every one of our customers is central to our thinking at Aldar and we are committed to delivering on our promise to them by continuously enhancing our offering and solutions. We are also committed to finding new ways in which we can deliver more value to our communities – from enhancing the surrounding destinations, reducing service charges and improving service levels within the communities. We remain confident and optimistic about the opportunities available within Abu Dhabi's real estate market, and we look forward to a long and successful relationship with all of our customers for many years to come."

*Terms and conditions apply, offers are subject to bank approval.