Aldar to build on strong FY2021 performance with acceleration of transformational growth agenda
Abu Dhabi – UAE, 03 November 2021
Sustained growth momentum across Aldar's well-balanced business driven by another quarter of record development sales and steady recurring income generated by Aldar Investment
Highest-ever quarterly Development sales of AED 2.69 billion in Q3, bringing YTD total sales to AED 6.14 billion
Revenue backlog reached record of AED 5.86 billion, supporting future revenue visibility
Diversifying residential buyer and investor profile with increasing number of younger and female buyers, as well as foreign nationals
Aldar Development recorded 44% YoY increase in Q3 gross profit to AED 450 million driven by high-margin inventory sales at Mamsha and solid ramp-up of Aldar Projects
Aldar Investment NOI was stable YoY at AED 392 million, demonstrating the quality of the business' portfolio and asset management expertise
Retail portfolio reported a notable rebound with increases in footfall and sales to near pre-Covid levels
Strong liquidity position with AED 3.6 billion of unrestricted cash and AED 4.0 billion of undrawn committed facilities to fuel sustainable long-term growth opportunities
Robust financial performance underpinned by an improving operating environment supported by the UAE's world-leading vaccination programme, recovering market sentiment and pro-growth government policies and initiatives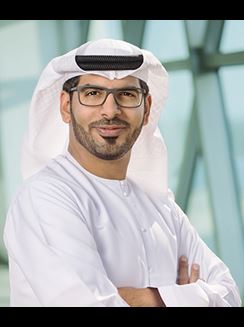 Talal Al Dhiyebi
Group Chief Executive Officer of Aldar Properties
"Aldar's strong financial and operating performance this year continued into Q3, reflecting our ability to sustain growth. As post-pandemic recovery gathered momentum, our diversified businesses continued to rebound at pace, with the third quarter delivering AED 2.69 billion in development sales, complemented by solid leasing activity for our retail and commercial investment property portfolios. Aldar continues to contribute to the economic and social fabric of the UAE. During the first three quarters of this year, our 'National In Country Value' programme reinvested AED 1.92 billion locally through contracts awarded to UAE-based partners. Furthermore, we have made a commitment to create employment opportunities for 1,000 UAE nationals over the next five years. We expect to see operating activities across our commercial and retail assets continue to grow in line with the macroeconomic recovery that is well underway. Aldar continues to seek attractive and value accretive investment opportunities to grow our portfolio of operating assets and we plan to bring more new developments to the market, driven by our expanding client base, including overseas investors."
Business Unit Highlights
Aldar Development
| Aldar Development (AED MN) | Q3 2021 | % Change | YTD 2021 | % Change |
| --- | --- | --- | --- | --- |
| Revenue | 2,090 | Flat YoY | 6,320 | +8% YoY |
| Gross profit | 834 | +20% YoY | 2,430 | +15% YoY |
| Net profit | 474 | +14% YoY | 1,540 | +28% YoY |
Business Unit Highlights
Aldar Development
This core business unit comprises two main segments: Property Development & Sales, which is responsible for developing and marketing Aldar's diverse and strategic land bank located in key investment zones including Saadiyat and Yas Islands; and Project Management Services, which manages Aldar's fee-based development management business including AED 45 billion of government housing and infrastructure projects.
Aldar Group (AED million)
Q3 2021
Q3 2020
% Change
9M 2021
9M 2020
% Change
Revenue
1,256
1,291
-3%
3,790
3,364
13%
Gross profit
450

313
+44%
1,264
1,006
26%

Sales
2,694
1,201
+124%
6,137
2,309
201%


Aldar Development's Q3 gross profit jumped 44% to AED 450 million. The business continues to deliver strong sales on the back of improving macroeconomic conditions, a return of customer confidence and evolving preferences towards high-quality, spacious, and lifestyle-oriented properties.




New record quarterly development sales of AED 2.69 billion, following successful product launches in Yas Acres Magnolias and Al Gurm Phase II as well as robust demand for existing inventory in high-end destinations such as Mamsha. This is the fifth consecutive quarter of over AED 1 billion of sales, bringing total year-to-date sales to AED 6.14 billion.




Revenue backlog increased to a record of AED 5.86 billion, enhancing revenue visibility.




Cash collections of AED 982 million in Q3 and AED 3.0 billion year to date.

The expatriate homeowner and foreign investor demographic continues to grow, further highlighting Abu Dhabi's real estate fundamentals and attractiveness as a destination for both investment and residency. In addition, Aldar witnessed strong demand from both first-time homeowners and female buyers.




Development launches in Q3 comprised a diverse product mix appealing to a broad customer base seeking high-quality properties from mid-range to luxury, with strong demand for both the off-plan and ready-to-move-in segments. Villas and townhouses on Yas Island continue to drive sales.

Q3 gross profit for the Project Management Services business increased by 97% YoY mainly due to a ramp-up in Aldar Projects' fee-based business.

Aldar is leading a consortium of investors that aims to acquire a majority stake in one of Egypt's leading listed real estate development companies, Sixth of October Development and Investment Company (SODIC). During Q3, the consortium submitted an all-cash mandatory tender offer for up to 90% and a minimum of 51% of the outstanding share capital of SODIC to the Egyptian Financial Regulatory Authority for its approval. This proposed acquisition of a majority stake in SODIC is part of Aldar's overall expansion strategy into the attractive Egyptian real estate market, with the company currently assessing several opportunities.
Business Unit Highlights
Aldar Investment
Aldar Investment comprises four main segments representing over AED 20 billion of assets under management. Investment Properties houses Aldar's core asset management business comprising over AED 16.5 billion of prime real estate assets across retail, residential and commercial segments. Aldar Education is a leading education provider in Abu Dhabi. Hospitality and Leisure owns a portfolio of hotel and leisure assets principally located on Yas Island and Saadiyat Island. Principal Investments includes Provis, the property management business, Khidmah, the facilities management business and Pivot, a construction services business.
| Aldar Investment (AED MN) | Q3 2021 | Q3 2020 | % Change | 9M 2021 | 9M 2020 | % Change |
| --- | --- | --- | --- | --- | --- | --- |
| Revenue | 792 | 760 | (4%) | 2,357 | 2,231 | (6%) |
| Total Net Operating Income (NOI) | 392 | 387 | 1% | 1,173 | 1,114 | (5%) |
| Occupancy (retail, office & commercial) | 91% | 88% | 3% | | | |
Aldar Investment's Q3 revenue grew 4% YoY to AED 792 million and net operating income (NOI) increased 1% YoY to AED 392 million, mainly driven by strong performance by the retail portfolio and ongoing recovery in the hospitality and leisure business. Nine-month NOI was up 5% at AED 1.17 billion.

The Investment Properties portfolio's Q3 NOI held firm at AED 337 million. Occupancy across the portfolio of diversified properties increased to 91% in Q3 from 88% a year earlier. NOI for the first nine months of the year was 1% higher YoY at AED 983 million.

o

Residential NOI for the nine-month period decreased 1% YoY to AED 352 million, mainly due to expiry of the Khalidiya Village leasehold. The overall portfolio showed continued strength, reaching average occupancy of 92% in Q3, up from 88% a year earlier, supported by rising occupancy in our Reem Island apartment buildings and Sas Al Nakhl villa community. Aldar continued the sale of strata residential units as part of its monetisation strategy, with AED 149 million in YTD sales at an average of 11% above book value.
o

Retail NOI increased 9% YoY to AED 332 million in the nine-month period, mainly attributed to higher footfall and sales. Within the portfolio, the food and beverage (F&B) segment witnessed a strong performance, driven by improving consumer confidence and a ramp-up of dining destinations, especially in Mamsha. Occupancy rates rose to 88% in Q3, from 85% a year earlier, and is expected to increase further as handovers at Yas Mall progress, in line with the asset's redevelopment plan.


o Commercial NOI declined 4% YoY to AED 299 million in the nine-month period due to a reduction in revenue in Operative Villages. The core office portfolio saw an increase in leasing activity with more than 22,000 sq.m. of new leases and renewals in the nine-month period. Occupancy rates across Aldar's Grade A office properties remained resilient at 89%, supported by long-term, committed lease contracts from government-related entities and corporate clients.  The Hospitality and Leisure business continues to recover with 128% YoY growth in NOI for the nine-month period, driven by prudent cost management. While performance remains impacted by travel restrictions, several important announcements, including the easing of Abu Dhabi border restrictions and exemptions from quarantine travel requirements, are expected to boost activity.

Aldar Education reported a 27% increase in nine-month NOI to AED 124 million, driven by a 3% increase in student numbers to 26,370, compared to 25,630 in the same period last year.

Within the Principal Investments business, Aldar's property management company Provis produced a 99% increase in nine-month NOI driven by new contracts. Currently, Provis includes a portfolio of 52,000 residential units, 490,000 Gross Leasable Area (GLA) of retail assets, and 318,000 sqm of commercial assets under management. Khidmah, Aldar's wholly owned facilities management business, witnessed 13% growth in nine-month NOI.



Q3 Corporate Highlights
ESG: Upholding Sustainability Standards
Aldar continues to be the highest-rated developer for ESG in the UAE supported by its strong In Country Value (ICV) initiative. The ICV programme is a key tenet of Aldar's sustainable procurement strategy and the company reinvested AED 1.92 billion locally through contracts awarded to UAE-based partners during the first nine months of 2021.
During Q3, Aldar again showcased its commitment to the highest international standards in sustainability reporting with the launch of its 2020 Sustainability Report, which included the company's first application of the Task Force on Climate-Related Financial Disclosures (TCFD) climate risk disclosure framework. The report aligned with the United Nations Global Compact (UNGC) and Abu Dhabi Securities Exchange (ADX) frameworks and guidelines. The report was also reviewed by Global Reporting Initiative (GRI), a leading provider of global best practice for impact reporting.
Innovation: Supporting, Nurturing and Investing in New Ideas and Tech
Aldar selected three PropTech startups as part of the inaugural "Aldar Scale Up" accelerator programme, which aims to provide a gateway for international businesses with the latest cutting-edge real estate technology to enter and set up in the UAE.
During Q3, Aldar amended its procurement processes to simplify contracts and payment terms for start-ups with the aim of facilitating greater collaboration with local, regional and international start-ups and ensuring that Aldar is an attractive partner to launch pilot projects in the UAE.
Customer: Improving Experience
Further emphasis on customer centricity drove an improvement in Aldar's Net Promoter Score (NPS) in Q3, with a two-point increase recorded in its September YTD score compared to June YTD figures.
People: Empowering Employees in the Workplace
During Q3, Aldar was selected by 'Great Place to Work' as one of the top 10 employers in the UAE for the working environment it has created for women. The survey assessed female employee experiences of trust, innovation, company values, and leadership.

Aldar has committed to creating employment opportunities for 1,000 UAE nationals over the next five years in line with the ambitious Emiratisation goals set out in the UAE's 'Projects of the 50' initiative for UAE private sector organisations.